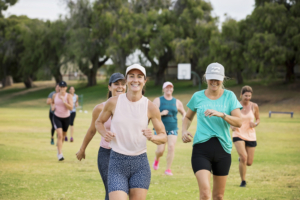 Hi! I'm Rachel the owner of FIZZICAL FITNESS AUSTRALIA. I am a wife, and mum of 2 girls.
I believe there is nothing better than feeling fit and healthy – like you are fizzing with energy. My desire is to help people feel that way every day!
I love to encourage people to move their bodies in a way that makes them feel good. I believe that living a healthy lifestyle doesn't need to be complicated. I know that by changing our daily habits through improving nutrition, increasing physical activity and having a positive mindset we can achieve greater health.
My love for fitness started in my teenage years, where I enjoyed dancing, and playing team sports. I wasn't a champion athlete, but I loved to move my body especially with other people. I would get up early to do Aerobics OZ Style on the TV before school and when I was old enough, I got a gym membership so I could attend all the group classes I wanted!
It didn't take long before I became a Group Fitness Instructor and over the past 16 years I have taught Les Mills Body Pump, Body Step, Body Attack, LM TONE (previously Body Vive), LM CORE (previously CX Worx), Body Balance and T3 (similar to HIIT) to hundreds of regular gym goers. I am deeply passionate about Group Fitness and have completed ongoing instructor training in Advanced Modules and more recently become a mentor for trainee instructors.
After completing my university degree in Health Science and Commerce at the University of WA, I worked for both local and state government in Sport & Recreation. But I soon realised that my passion lied in delivering Health & Fitness experiences within my community.
FIZZICAL FITNESS AUSTRALIA was started in 2009 and up until the end 2014 I offered Personal and Group Training to up to 150 clients. The Real You Revolution was developed in 2013 and successfully completed by many of my local clients and some online. For the past 6 years I have continued to teach Group Fitness Classes, whilst caring for my 2 children. I believe without any doubt that working part time, undertaking regular physical activity and connecting with local groups – fitness, mothers' groups, dance and gymbakids, helped me survive those early years at home. Being able to share my own struggles with other parents and gym members, but also helping others focus on the joys of movement and promote the importance of social connection has given me great fulfillment.
In December 2020 I relaunched FIZZICAL FITNESS AUSTRALIA and am running Outdoor Group Training Sessions alongside my Group Fitness classes in the gym. I continue to mentor new trainees and am relaunching the Real You Revolution Program in May 2021. The recent COVID pandemic has changed the way we move, socialize and connect. The burning desire to share my passion of health and fitness through improving the health of the community and building social connections is stronger than ever.
I believe that your health and wellness is an ongoing journey which needs top be adapted to every age and stage of your life. To be the best version of you, and to live to your fullest potential, you need to give attention to all components of your health. Physical health and fitness, nutrition, and wellness and mindset. I cannot give you the magic answer, but I can teach you how to find it in yourself.
Please share your journey with me! It's way more fun when you have friends to enjoy the ride with.